Jump to Recipe
Long time no see, Pot Lunchers. How the hell are ya? I hope you're good enough. That's all we can hope for, really, as we all slow boil into society's end. And if the end is nigh, at least we can get high, or something like that.
That's what this brand new recipe and episode hopes to help with.
I've been wanting to make some kind of infused chocolate treat for a while now but every attempt I've made at infused chocolate bars has ended up… not great. I understand the basics of candy making. It's all about temperature, time, and with chocolate, not mixing in any water. Not a single drop.
In previous attempts to mesh cannabis and chocolate at home have shown me exactly why you shouldn't add any water to hard chocolate. And why just adding a little infused oil makes for soft chocolate bars that melt in your hands (yuck).
Then finally a couple of weeks ago, I had a vision. I remembered that my grandparents used to give all the boys in the family those little boozy chocolates (until I demanded I got one after my 21st birthday). So I knew there must be a way to get tincture into the chocolate somehow. A few Google searches later and I landed on a recipe for chocolate ganache. Something I'm familiar with but had never actually tried to make myself. Primarilyl because most recipes call for heavy cream and if you've been around here for a while you know I don't do dairy like that. Unless it's cheese. I will suffer for cheese (and honestly it's milk and ice cream that really don't agree with me unless I eat TOO much cheese, we all have our limits).
More searching led me to other recipes with alternatives to heavy cream, like half & half, and milk. "Well why can't I try it with coconut cream or milk?" I wondered out loud because I love to hear myself talk.
Instead of doing this experiment on my own without an audience, I decided to document it all for the channel (you can see the episode below, but you must be signed in to YouTube to watch).
The full recipe is down below.
Oh and before I forget, if you watched the episode and heard me talking about how great that hot plate/burner is, you can get one here from Best Buy.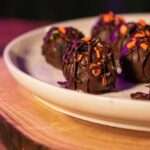 Print
Infused Chocolate Ganache Truffles
Equipment
Small sauce pot

Metal mixing bowl

Whisk

Baking sheet

Parchment paper

Small scoop

Fork

Kitchen scale or measuring cups
Ingredients
225

g

dark or semi-sweet chocolate, finely chopped

225 g = 8 ounces

112

g

canned coconut cream

112 g = 4 ounces

1.5-2

oz

cannabis tincture

5-14

g

infused coconut oil, optional

5-14 g = 1-3 tablespoons

225-450

g

tempered chocolate or chocolate candy coating

225-450 g = 6-16 ounces
Instructions
In a small sauce pot over medium heat, bring the coconut cream to a simmer. Remove from heat and add tincture and oil. Allow the oil to melt and fully incorporate it into the cream. 

In a separate mixing bowl, add the chopped chocolate. 

Pour hot cream over the chocolate and let it melt for a minute or two. Then begin to whisk the ingredients together until all the chocolate is melted and fully incorporated into the cream. Cover the bowl with plastic wrap and chill in the fridge for at least an hour until the ganache is firm and easily scooped. 

With a melon baller or other small, tablespoon-sized scoop or spoon, scoop out the ganache into balls onto a parchment paper-lined baking sheet. Return to the freezer overnight, covered.

Melt chocolate in a double boiler set up. Using a fork, gently roll the frozen ganache balls into the melted chocolate and then place them on a clean parchment-lined baking sheet. Decorate with sprinkles or candies if you'd like, or drizzle with leftover chocolate—Baker's choice. 

Store in an airtight container in the refrigerator for up to six months.